We at swingerpornfun.com had this amazing idea to create the ultimate hotwife challenge for hotwives and their cucks. This is a list for those who are just starting out or even those who are already immersed in the lifestyle. Our aim was to make sure that everyone could take part, no matter what level of experience they had. The purpose of this list is to help you both grow and open up your relationship and sex life to new possibilities. This will help both of you to explore new kinks and discover new turn-ons along the way.
One of the best things about this challenge is that it allows you to start from scratch. Even if you have tried some of these things before, you can start over again. This means you can rediscover forgotten experiences and create new memories together. So, no matter where you are in your hotwife journey, this challenge has something for everyone and can help you create new sexy memories together.

How to Play the Hotwife Challenge?
You have three options to choose from when playing our challenge, but ultimately the decision is yours. We suggest taking some time to think about which option would be the best fit for you and your partner before making an instant decision. It's important to keep in mind that if you do choose to participate, this list has the potential to really shake things up and change the way you and your partner operate. So, take your time to decide and choose the option that feels right for you both.
1. The 30 Day Hotwife Challenge
The first option we offer is a challenge that gradually gets harder as you progress. It starts off with relatively easy tasks and becomes more challenging as you move along the list. This option gives you 30 days to complete as many tasks as you can. You have the freedom to approach this challenge in different ways depending on your preference. You can choose to go all out and throw away any inhibitions for the entire month. Another option is, you can be more strategic and carefully select which tasks you want to complete each day for the 30-day period. The choice is entirely up to you.
2. The Dare Raffle
The second option for completing this hotwife challenge is to select 15 challenges that appeal to you. Here you can write down all of the challenges you like. Next, you write each challenge on a separate piece of paper, tear them into little squares, mix them up, and randomly pick one from the box. Whichever challenge you select at random, you have to complete it. This option turns the challenge into a raffle and can prolong the experience. It's a great way to add some spice to your bedroom activities and provides something to look forward to.
3. The 7 Day Hotwife Challenge
The third and final option for completing the hotwife challenge is similar to the first option, except you have a shorter time limit. In this challenge, you get 7 full days to complete as many challenges as you can. You have the flexibility to choose which tasks you want to complete before starting the challenge. It's important to remember that you must complete as many tasks as you can within the 7-day time limit. This option allows you to come back and do another 7-day challenge whenever you feel like it.
Below is a list of 100 challenges that would turn a wife into a HOTWIFE! Download the images below and start your Hotwife journey.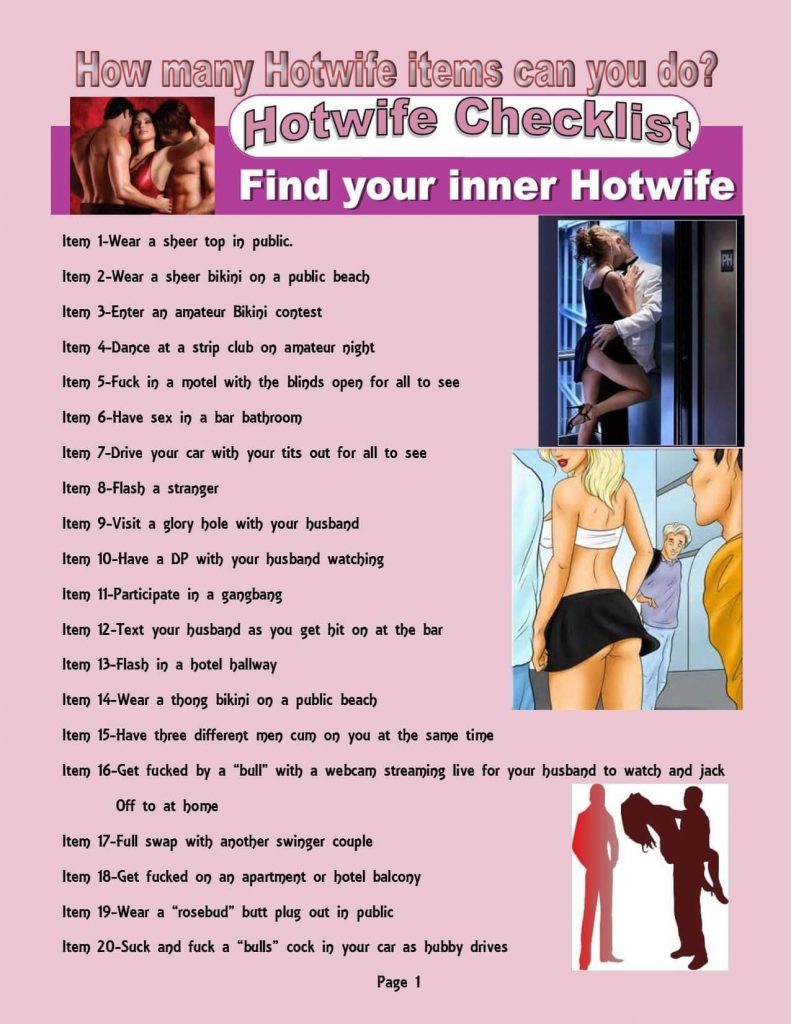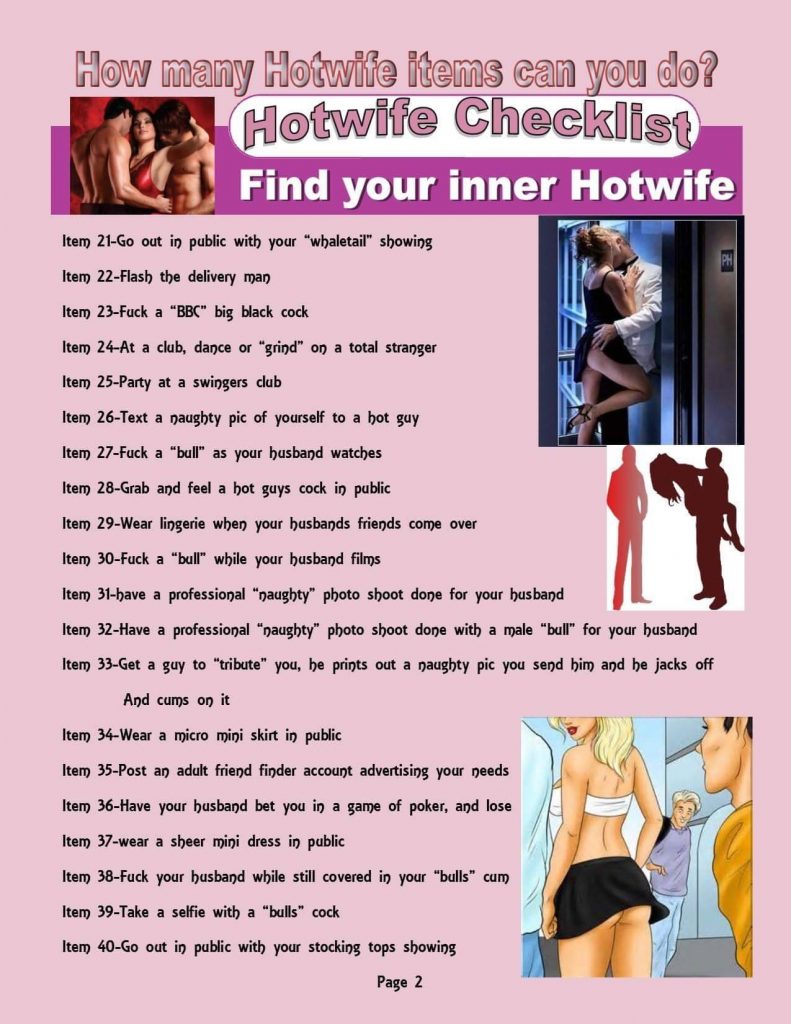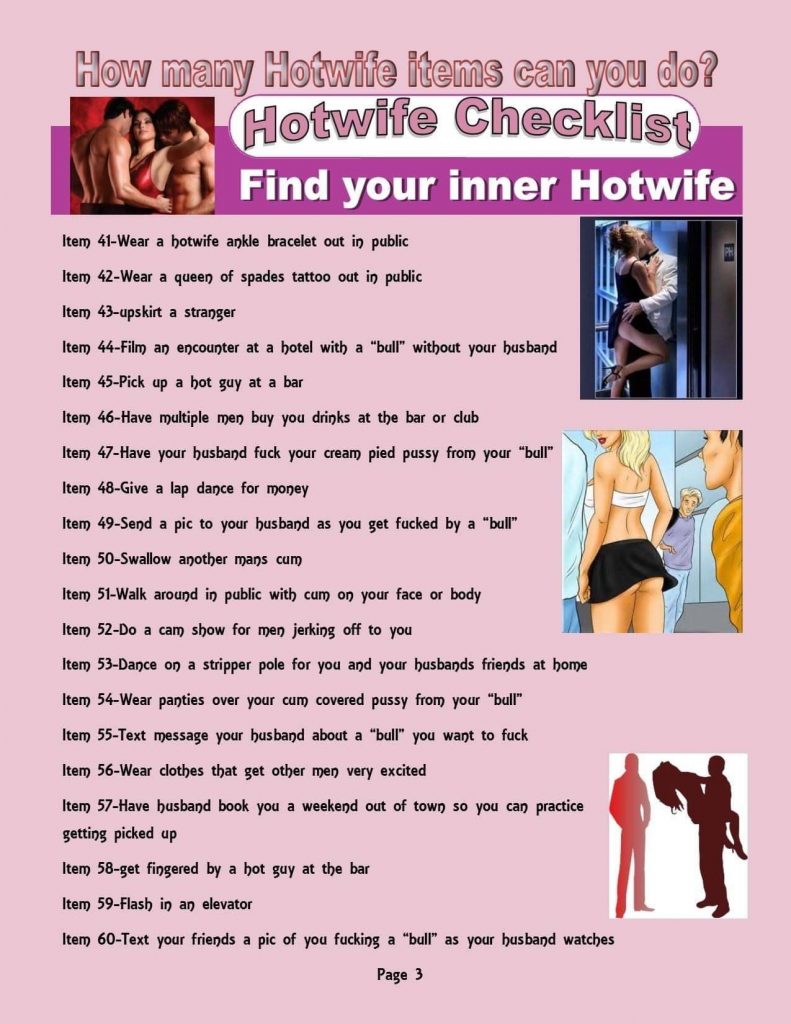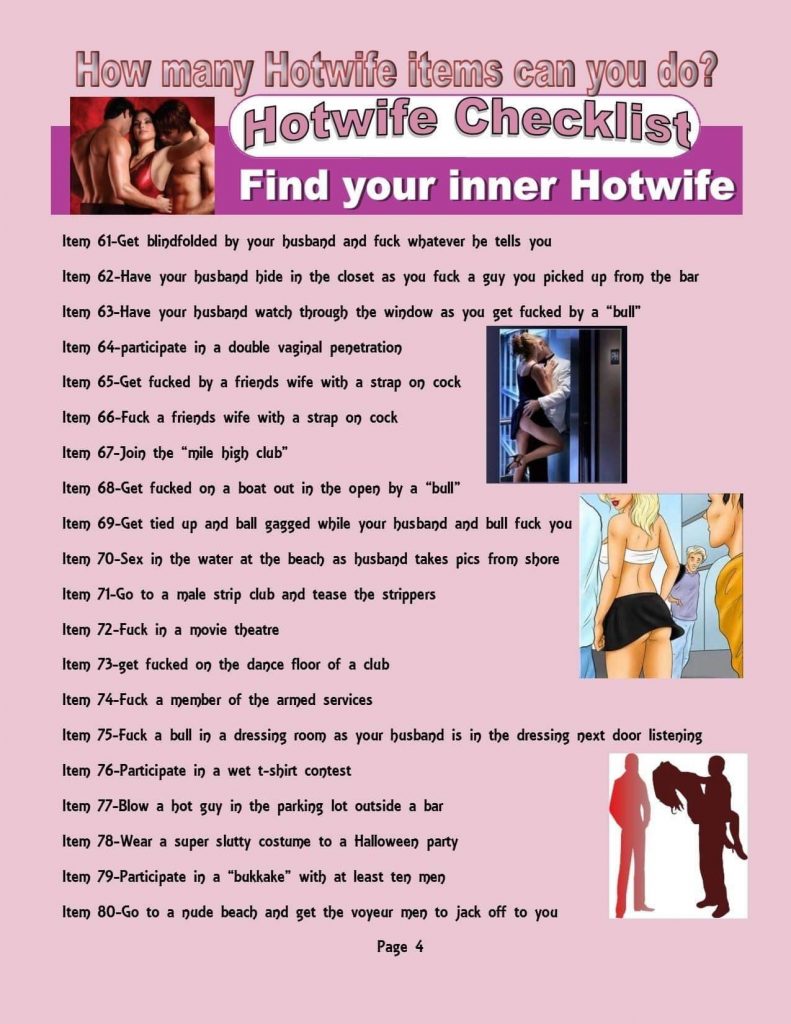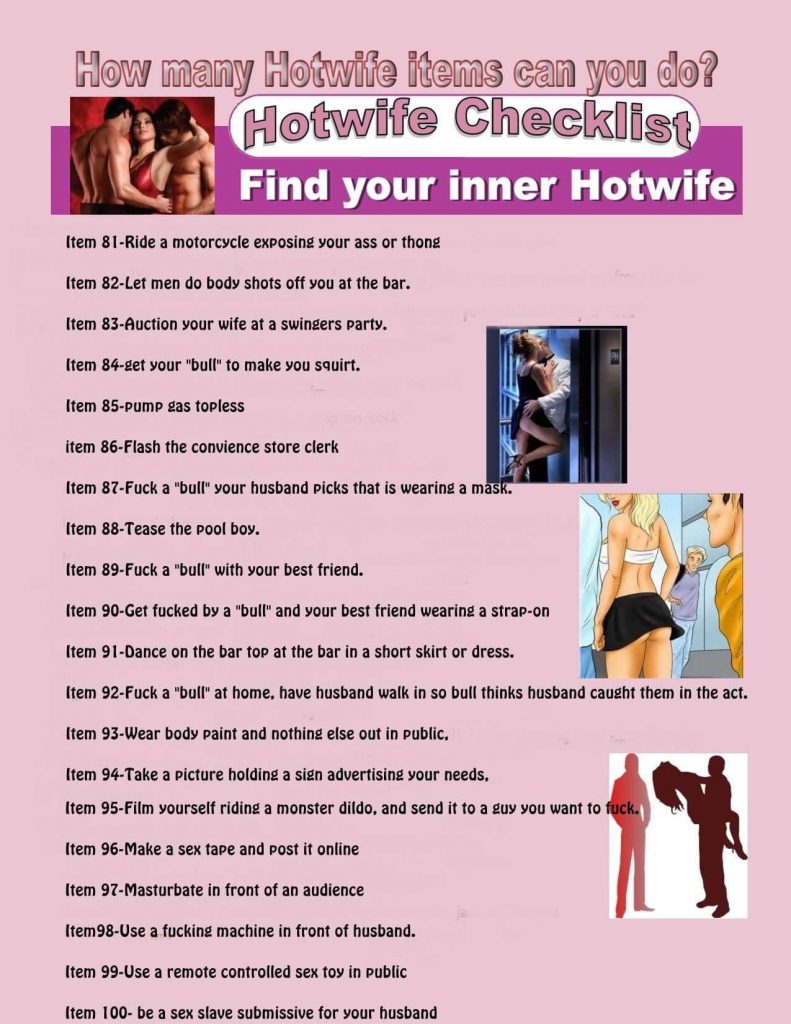 Alright, here we go! These are the hotwife challenges and dares for all you kinky couples out there who are embarking on this adventure. We wish you all the best of luck, tons of fun, and an incredibly rewarding ride! Enjoy the experience and explore your sexual boundaries together.